Relichtie

Memorable matches

No. 19

August 22 1992 Arbroath 4-5 East Stirling Scottish League Division 2

This was one of the most unbelievable matches, and score lines that I have ever witnessed. At the end of the game, I left Gayfield trying to count the score, was it 4-4 ?, or 4-5 ?, whatever, it was total madness, 4-2 up with seven minutes to go should have been two points in the bag !

Shire started with former lichtie Paul Roberts in their side at number 11, and what a contribution he was to make to the proceedings. Arbroath settled first, but went behind when Roberts intercepted a McDonald pass and sprinted into the box and shot past Balfour. A minute later though, McDonald atoned for his slack pass when he headed Arbroath level from a cross from Tosh. Two minutes later Arbroath went in front when Sorbie headed in from a corner by Martin, and the same player made it 3-1 when he dived full length to connect with a McDonald cross.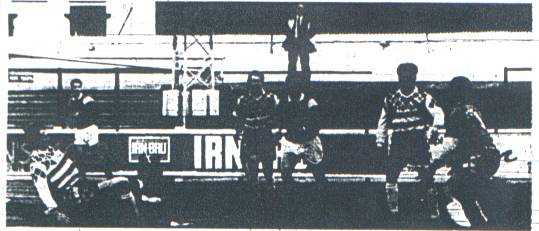 On the half hour mark, it was tragedy for Mitchell. Balfour came out for a cross, and misjudged it allowing McKinnon to head the ball over the keeper, and Mitchell punched the ball over the bar. His `reward` for saving a goal was a red card. Walker slotted home the resultant penalty. Shire tried to level the match before the break, and McKinnon had a couple of attempts saved by Balfour, but Arbroath held on to their 3-2 lead.
The second half had only been going seven minutes when Tindal replaced Tosh, and his first contribution was to score Arbroath's fourth, when the ball came to him after a goalmouth scramble.

Both teams were committed to attacking so the game flowed from end to end rapidly, with Sorbie coming close for Arbroath, and Balfour saving a chip from Walker. With seven minutes remaining, a nice day turned sour in more ways than one, when the rain started pouring down, and Balfour came to the edge of his box to collect a Walker cross but Barclay got there first, rounded the stranded keeper, and shot past Godfrey, who had came back to provide some cover, and in to the net. Roberts got the equaliser three minutes later with a controversial goal. In a ruck of players he contested a high ball, got his head to the ball, which hit the underside of the bar and back into play off a defender, but the linesman, another Russian ( circa, 1966 ), I presume, signalled a goal, and the referee concurred. It looked as if Arbroath had thrown away a point, but we looked on disbelievingly as Roberts collected the ball just inside the home half, and homed in on goal, slamming home a 20 yard drive to take all the points back to Firs Park.
Arbroath - Balfour, McNaughton, Martin, Mitchell, Godfrey, Boyd, Farnan, Adam, McDonald, Tosh, Sorbie. subs Tindal and Holmes.
East Stirling - Imrie, McMillan, Craig, Ross, Russell, Friar, McKinnon, Thomson, Tierney, Walker, Roberts. subs Barclay and Auld.
Referee J.A. Herald, Newton Mearns.
Attendance 380.
I remember turning to another lichtie fan and asking him, "what was the score "?, and he looked at me and shrugged his shoulders. It was that sort of a game! One I would prefer to forget, but the 4-5 score tends to stick in your mind.