Relichtie

Memorable matches

No. 23

This match was requested by Richard.

April 21 1984 Arbroath 6-3 Q.O.S. Scottish League Division 2

This was an end of season match, but with a difference. Both clubs were in with a chance of promotion to Division 1, along with another four or five clubs. With Forfar as runaway leaders, only one promotion place was " up for grabs ", and Arbroath were three points behind Queens, so a win was essential.

The match got off to a lively start, with first the visitors attacking, then the home side. Larter had to look lively in 9 mins. to get down to a shot by Cloy, but a minute later Kennedy chased a ball which was running out of play, cut the ball back to Lees, whose shot was parried by Davidson, only to Harley who chested the ball down and slotted home from 12 yards.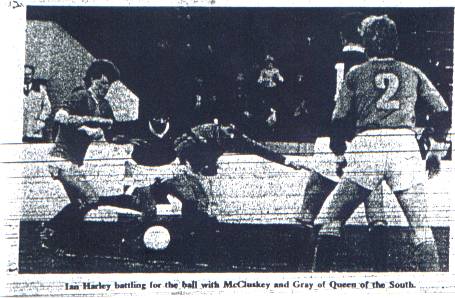 It only took Arbroath two minutes to double their advantage, when a Larter clearance was missed by Oliver, and Harley crossed to the unmarked Kennedy who prodded the ball into the empty net. Harley had the ball in the net again in 17mins., but the goal was disallowed for offside. Arbroath had further chances through Forsyth, Kennedy, McWalter and Lees, while Queens also had opportunities, with Hammill, Cochrane and Cloy. Half time came with no more goals, but it could have been 6-4, instead of 2-0.
The visitors must have received a severe talking to at half time, as they pulled a goal back in 50 mins. through Cochrane. Three minutes later though, Arbroath restored their two goal advantage when McCluskey was woefully short with a pass back, and Harley nipped in and rounded Davidson to score. Queens went straight up the park, and Cloy forced a fine save from Larter with a fierce drive. It was four for the home side a few minutes later, a Forsyth cross wasn't cleared and Harley chipped the ball to Lees, who headed in from 3 yards. The Doonhamer's were visibly shaken by the Arbroath onslaught, but an inspired substitution when player/manager Drew Busby come on for Young saw the veteran play a through ball for Cochrane who slipped the ball past Larter from the edge of the box.
Straight from the kick off the lichties raced up the field, and when Forsyth found Kennedy with his cross, the number 11 made no mistake and notched his second and Arbroath's fifth.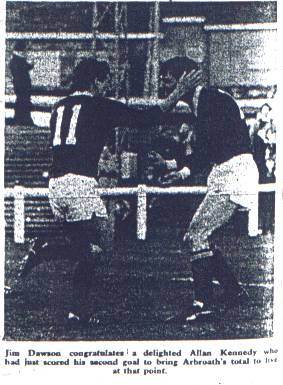 In 74 mins. it was six. Kennedy pushed the ball to Forsyth who ran to the bye line and cut the ball back to Payne. His cross found Lees, who hit a dipping shot into the net.
Queens got the final goal when an inswinging corner by Cloy went straight into the net.
It was definitely Gayfield for goals in this match, and there could have been more as Busby missed a chance from four yards, and Kennedy had a couple of chances to add to his tally.
Arbroath - Larter, Forsyth, Rendall, Davie, Young, McKenzie, Lees, Payne, Harley, McWalter, Kennedy. subs T. Hill and Dawson.
Q.O.S. - Davidson, G. Robertson, Gray, McCluskey, Oliver, Cloy, Gordon, Hammill, Dunlop, Young, Cochrane. subs Clark and Busby.
Referee D. A. Yeats, Perth
Attendance 554.
This result pushed Arbroath into fifth place, and with East Fife in second and only a point ahead, it was all to play for, especially as "the Fife " were next up at Gayfield. Unfortunately on the day the Methil men won 1-0 with a goal from Gordon Durie, and effectively finished the lichties promotion push.