Relichtie

Memorable matches

No. 35

Jan 1st 1976. Montrose 3-5 Arbroath. Scottish League Division 1

What a derby this was !

In the days before the draconian measures given to the police in outlawing drink at a football match, a massive crowd of Arbroath fans traveled the short journey north to Links Park with their "half bottles" firmly planted in their hippers. It was in this vein that I traveled in a supporters bus to a bitterly cold ground. It was pre segregation days, so all the fans huddled together behind the goal, and under the covered terracing at the side ( where the new stand is now).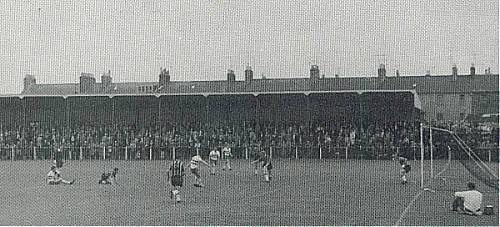 We had a quick nip from the bottles to get some warmth, then some wag suggested we had one after every goal, so by the end of the match it seemed as if both sides had 22 men each.
As to the match, Montrose went ahead after 10 mins, when Marshall appeared to drop the ball and Miller tapped in. Arbroath were level six mins later, when Mathieson scored from a free kick on the edge of the box. Livingstone put the home side ahead again, controlling the ball well, sidestepping a couple of defenders and shot past Marshall on 20 mins. Eight mins later it was 2-2 when Sellars headed neatly past Gorman in the home goal.
That brought half time, and we were half p####d, but the best was yet to come.
A second half blizzard saw the white shirted lichties go ahead for the first time on 46 mins, when Mathieson curled a free kick in past the helpless Gorman. It was back to level pegging again, when Lowe forced the ball home from a free kick by Barr almost straight from the kick off. A few minutes later Bone wheeled on the edge of the box and fired in a powerful shot which Gorman parried, only for Alan McKenzie to shoot home. By this time it was difficult to see what was going on, and not just because of the snow falling. On 80 mins Bone and Milne combined well on the right and the full backs cross was volleyed in by Yule to complete the scoring.
So it was home to continue the first footing, after all we really needed a wee drink!!!
Montrose - Gorman, Barr, Markland, McNicoll, D'Arcy, Downie, Lowe, Cant, Livingstone, Johnstone, Miller. Subs Guthrie and Stewart.
Arbroath - Marshall, Milne, Rylance, Cargill, Carson, Murray, Sellars, Mathieson, Bone, McKenzie, Yule. Subs Penman and Mitchell.
Referee W.J. Mullen, Dalkeith.
Attendance 3600.