Relichtie

Quarter finals No. 4
March 12 1977 Arbroath 1-3 Dundee
Scottish Cup
After defeating Hibs in the 4th Round, the Arbroath Guide headline read " Now bring on the `Dee ", for Arbroath would now face neighbours Dundee at Gayfield for a place in the semis.
Both teams were in the 1st Division, as Arbroath had been placed there during the league reorganisation when the Premier League was set up, and Dundee had been relegated after the first season. Arbroath were in mid table, and Dundee were pushing for promotion. The only previous meeting of the clubs for this season was at Dens Park in September, when the home side had won by 2-1.
The lichties got off to the perfect start with a goal in the 1st minute. Taking a Bone pass, Tommy Yule looked up and saw Dundee keeper Donaldson advancing toward him, and coolly slipped the ball in to the corner of the net.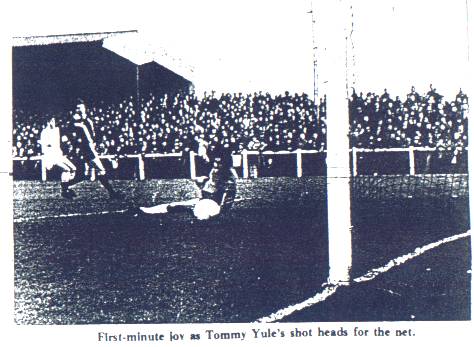 It was " Roy of the Rovers " stuff !, but Arbroath couldn't capitalise on their superiority, and allowed Dundee to grab a foothold in the match. The Dens parkers certainly used the period to great effect as in 24 mins. they brought the scores level when Gordon Strachan scored from close in.
Half time came with the scores level.
After the break Arbroath put Dundee through the mill and a hatful of chances were made, and missed, but the unluckiest player had to be Yule who got on the end of another great ball in the box, but his attempt this time came back off the post, with Donaldson beaten.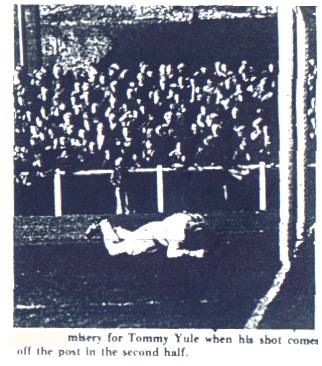 A goal then would have finished Dundee, but the lucky break seemed to give the visitors new heart and with time running out they snatched victory with goals by Sinclair in 87 and 88 mins, from crosses by Strachan and Purdie respectively. It was cruel on Arbroath, who had more than equalled Dundee and with a bit of luck would have won.
Arbroath - Marshall, Follon, Kydd, Cargill, Carson, Murray, Fletcher, Gardner, Bone, Rylance, Yule. subs Mitchell and McKenzie.
Dundee - Donaldson, Ford, Gemmell, Caldwell, Phillip, McPhail, Hoggan, Strachan, Pirie, Hutchison, Purdie. subs Robinson and Sinclair.
Referee T.R.Kyle, Glasgow.
Attendance 9558.
The following Saturday, Dundee were back at Gayfield on league business. Arbroath effectively finished their promotion challenge, with a solitary goal from Tom Cargill. Coincidentally the third match between the clubs was played at Dens a further seven days later, and resulted in a 5-2 win for Dundee, No doubt the two teams had been sick of the sight of each other by then, albeit for different reasons.