Relichtie

Memorable matches

No. 3

Tuesday September 1963 Arbroath 8-1 Raith Rovers Scottish League Division 2

" Can you lift us in mannie ? ".

The plea of many a wee laddie outside Gayfield, and the way I gained access to this match on a warm sunny evening.

Three days earlier newly relegated Rovers had thrashed Stirling Albion 7-0 at Kirkcaldy, so a tough match was envisioned.

So it seemed early in the match especially when a mix up between Stirling and Kennedy saw the ball bounce to McGrogan who hooked the ball over his head and past the surprised Thomson. Easson equalised for Arbroath, and Donnelly put the lichties in front.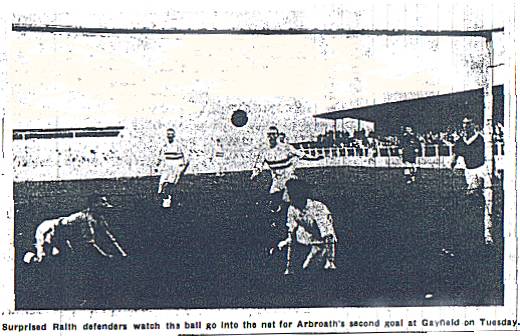 Tulloch hit the inside of the post before he added the third in 41 mins.
A satisfactory half, but the best was yet to come.
Tulloch crossed to Murray in 49 mins. and the inside man nodded in. A Kennedy penalty in 63mins., awarded when keeper Reid pulled down Murray brought the total to five, and 3 mins. later a drive from Kennedy made it six.
Donnelly then had a shot which hit the post, before Easson pounced on a short pass back and rounded Reid. Soutar completed the scoring when he headed in a Cargill free kick.
Arbroath- Thomson, Cameron, Hughes, Soutar, Stirling, Kennedy, Tulloch, Donnelly, Easson, Murray, Cargill.
Raith Rovers- Reid, Haig, Gray, Burrows, Finlay, McNiven, Lourie, McGrogan, Menzies, Gilpin, Thoms.
Attendance 1895.
This was Arbroath's fourth game, and victory against the Rovers as they had met in the league cup section matches, and six days earlier in the league.
August 17 League cup Raith Rvs 3-4 Arbroath. Murray 2, Tulloch, Morrison.
August 31 League cup Arbroath 2-0 Raith Rvs. Soutar 2.
September 18 League Raith Rvs 2-3 Arbroath Tulloch, Junior, Murray.
Back to index Raith Stats Quarter-finals 1959